Wisdom Teeth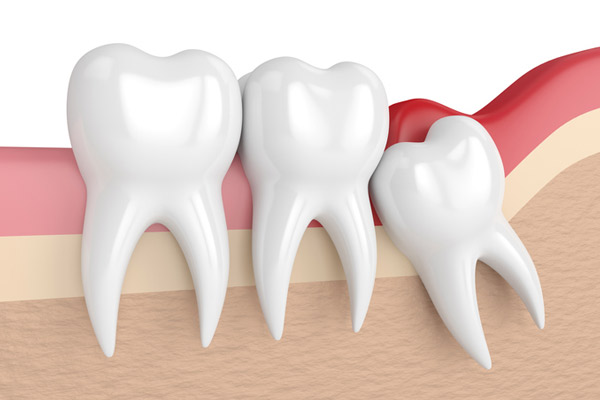 Wisdom teeth typically emerge between the ages of 17 to 25. Wisdom teeth do not always cause issues. However, if wisdom teeth do not have space to fit, the mouth will be crowded, and the wisdom teeth will find difficulty lining with other teeth. If you feel your wisdom teeth may be coming in, visit Cascade Dental to meet with Dr. Joshua Rice. Our dentis will examine your condition and help you reach a decision about your wisdom teeth that will benefit you in the long run.


Why You Should Opt for Wisdom Tooth Extraction

Tooth extraction is permanent tooth removal. This means the professional will remove your tooth from its socket via forceps or a surgical procedure. Tooth extraction takes place when a tooth cannot be repaired due to extensive damage or decay. Wisdom teeth extraction is considered major surgery. Wisdom teeth are located in the back of the mouth, so cleaning them may not be easy. On some occasions, wisdom teeth emerge at the wrong angle, meaning they are impacted. This causes the wisdom teeth to press against your gums and cause a great deal of pain. These reasons put out a logical and convincing argument for you to opt for a wisdom tooth extraction.


Impacted Wisdom Teeth

Impacted wisdom teeth occur when the third molars are, to any extent, surrendered in your gums or jaw. This situation can contribute to oral hygiene issues such as gum disease or tooth infection. Impacted wisdom teeth can potentially wrap plaque, food, or bacteria in the soft tissue that surrounds it, leading to a cavity, dental health issues, or sensitive gums. The human mouth, by normality, does not have enough room to house 32 teeth. In this case, the presence of one to four wisdom teeth can cause crowding, thus leading to trapped food in gums, pain, and other situations.


Wisdom Teeth Extraction

Discuss your situation with Dr. Joshua Rice at Cascade Dental. Once they assess your condition and if they give you the green light on a wisdom tooth extraction, you can begin preparing yourself mentally and physically for the procedure. Mentally, you can provide yourself with logic; you're opting for better oral care, and in the long run, the extraction will be better for you. Physically, before your extraction, discuss any other health problems you may be subjected to. Tell your doctors if you take any medications so they are aware. Feel free to ask any questions you may have regarding the wisdom tooth extraction process. During your wisdom tooth extraction removal, Dr. Joshua Rice will numb your mouth with local anesthesia so you won't feel any discomfort during the procedure. Once the extraction is complete, feel free to ask any questions you may have regarding aftercare. Ensure you are not driving back home yourself and that you have someone with you. We will give you aftercare instructions.

Call us at Cascade Dental at 541-779-6401 to schedule an appointment to learn more about wisdom teeth.