Periodontal Care and Maintenance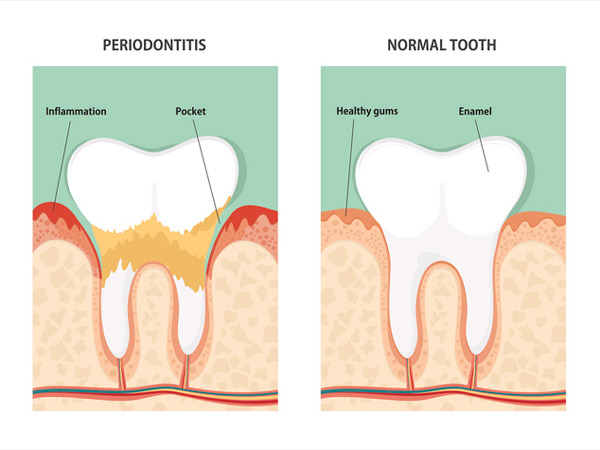 Gum disease, also known as periodontal disease, happens when you have infections in your teeth. You can help avoid more harm and stop the disease from spreading and worsening if it is discovered early enough and treatment begins. If you feel you have gum disease, you should get medical assistance right away. Our dental team and our periodontist at Cascade Dental have the skills that you need, and we will offer periodontal maintenance and care for you.


Periodontal Disease

Periodontal disease, often known as gum disease, mainly attacks the soft tissue (gums) in the mouth. Plaque, a form of a bacterium, causes the gums to get infected. Bacteria accumulate as a result of inadequate or non-existent oral hygiene treatment. When plaque builds up and thickens, it develops into tartar, which is difficult to remove. At this point, you must get immediate medical attention to begin the treatment procedure since if left untreated, it might result in loss of teeth. Periodontal disease clinical signs include receding gums, halitosis, loose teeth, sensitive teeth, bleeding and irritated gums, red and swollen gums, and uncomfortable biting. For successful diagnosis and therapy, immediate periodontal maintenance and care are essential.


Gum Disease Diagnosis

A dental hygienist will evaluate your gums for signs of inflammation, and our dentist will use a small ruler to measure for pockets around your teeth. A healthy mouth has pockets ranging from 1 to 3 millimeters in size, and the inspection is painless. To identify potential risks for periodontitis, such as diabetes and smoking, our dentist will ask about your medical information and history. The dentist may take an x-ray here to detect any bone loss. We may then refer you to a periodontist, an expert in the diagnosis and treatment of gum disease. A periodontist will be able to provide you options for treatment that the dentist cannot.


Periodontal Maintenance Care and Those Who Need It

Periodontal maintenance care eliminates all of the germs that produce the inflammatory responses that cause periodontitis. This is aimed to maintain all of the work done by scaling and root planing or periodontal surgery in patients with gum disease. The periodontist will assess how frequently you require periodontal maintenance and cleaning. This will be determined by the degree of the infection or gum disease. According to studies, bacteria linked with gum disease recover your gums three months following expert cleaning. Make frequent dental appointments with the dentist so that they will spot early oral problems and for the periodontists to check for your gum health.

If you or any member of your family has periodontal disease, we are here to help. Our dental team at Cascade Dental is ready to give your gums the periodontal maintenance care they need. We will conduct dental examinations and clean your teeth to take away the plaque and tartar accumulating on your teeth. The dentist will also treat your gum disease effectively and offer more care to your gums and teeth. Call us at 541-779-6401 to schedule an appointment.