Dental Bridge

Medford, OR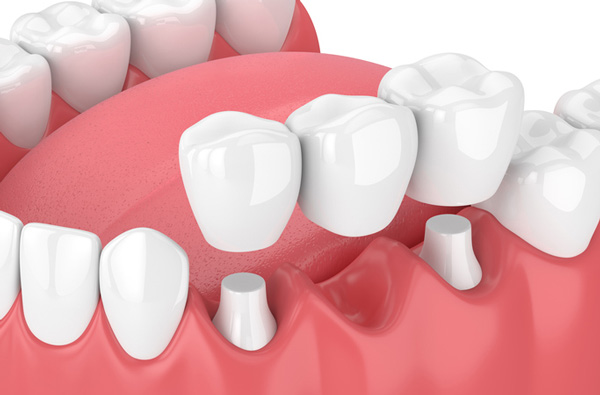 A dental bridge is a fixed and permanent treatment that restores missing teeth in the mouth. A dental bridge is specially made for every patient and has the form and function of a natural tooth. A whole mouth rehabilitation is required when many bridges are required for the mouth. In the event of several lost teeth, dentures may be considered. Our staff at Cascade Dental will assist you in selecting the ideal dental bridge for your mouth.


When Do You Need a Dental Bridge

A dental bridge is required when a person has missing teeth as a result of an accident, an unsuccessful root canal, or tooth decay. A dental bridge is likely to be recommended if you have dental implants or existing oral dental crowns on abutment teeth. The abutment teeth are the teeth on each side of a dental bridge that support it.


Dental Bridge Types

Traditional bridges are the most common style of bridge, and they are built of porcelain fused metal or ceramics. They have a synthetic tooth on either side that is kept in place by a crown. To ensure that the crowns fit properly, the dentist files and shapes two teeth adjacent to the artificial tooth during this procedure. If properly maintained, these bridges are sturdy and long-lasting. Back teeth, such as molars and premolars, are restored by the teeth. Cantilever bridges are constructed of porcelain bonded to metal, however, they must be supported by one natural tooth. The bridges repair front teeth and are not as strong as regular bridges.

The dental crown or an artificial tooth in the damaged tooth on each side, the bridges replace frontal teeth and are not as tough as traditional bridges. Maryland bridges, or adhesive bridges, are bridges which are secured by a metal framework. They are constructed of porcelain and feature wings to keep them stable. Adhesive bridges are used to restore incisors and are not as sturdy as cantilever bridges. Lastly, implant-supported bridges are used to replace teeth, particularly three lost teeth in a succession. Dental implants support them.


Dental Bridge

During the initial appointment, a general anesthetic is administered, and the dentist forms and files the abutment teeth in the same manner as a crown. To make room for more teeth, tooth structure and enamel are eliminated, and impressions are taken and sent to a lab to be customized. Finally, the dentist will install a permanent bridge over the shaped teeth and the gap. In the event of discomfort, the second appointment will include the removal of the temporary bridge and cleaning of the tooth. Local anesthetic is delivered, x-rays are obtained to guarantee proper fit of the bridge, and it is eventually sealed with dental cement.


Dental Bridge Maintenance

This is basic oral hygiene, similar to dental crown care instructions. The replacement tooth needs additional care since it is difficult to clean the region on which it rests, allowing plaque to build. As a result, it is essential to floss underneath the teeth, brush regularly, and rinse with mouthwash. In cases of discomfort, over-the-counter medicine is generally prescribed, or see us at Cascade Dental. It is also critical to keep track of what you consume. Chewy items, such as candies, hard meals, and ice cubes, should be avoided. If you have any questions concerning dental bridges, please contact us at 541-779-6401.