Mouthguard

Medford, OR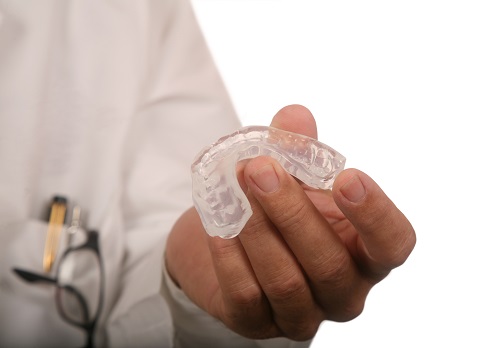 Many individuals wear mouthguards before they go to sleep because they frequently grind their teeth when they sleep. Teeth grinding, or bruxism, as it is sometimes known, is a common ailment in which individuals grind or clench their teeth and in most instances are not conscious they are doing it.

As per the sleep foundation, bruxism has a predominance of from eight percent to 31.4 percent. The symptoms that come from teeth clenching may include migraines, tooth damage, and jaw discomfort. Our experts at Cascade Dental can assist you to discover the proper mouthguard for nighttime, or night guards, as they are frequently known. Mouthguards could also be used to protect you from snoring and prevent sleep apnea. Whatever the necessity for a nightguard, or even a sportsguard, you can discover the correct alternative by talking with our dentist.


What Are the Varieties of Mouthguards for Wearing at Night?

There are various alternatives accessible to you if you need a night guard for your unique needs. Our dentist will be best equipped to assist you to find the perfect fit for you that will fix the issue that is stopping you from enjoying a decent night's sleep.

Stock mouthguards have been the most accessible and inexpensive night guards offered to patients. They are available in different sizes and you can pick the one that suits you. Most of the night guards protect your upper teeth.

Boil and Bite mouthguards are customized night guards that come in one size. You tailor them as per your teeth by boiling them first and afterward biting down on them until they suit your teeth. The dentist will assist you to adjust the night guard according to your requirements.

The third sort of night guard, and the one that we recommend, is the custom-made night guard. You may acquire this at our office where the mold of your teeth will be taken and a mouthguard that suits exactly the structure of your mouth and teeth is manufactured. They give a more comfortable fit alternative and are difficult to remove when sleeping.


How Do I Take Care of My Mouthguard?

Dental care is crucial and by doing so you are safeguarded from germs. Wash your mouthguard with warm water and soap, clean it with your toothbrush, then rinse it with cold water. Use a perforated container to store or carry a mouthguard for air circulation and damage avoidance. The mouthguard may be placed in clean water if it is acrylic. The mouthguard should be kept in cold conditions so that it keeps its form. A mouthguard should go through regular physical inspection for wear. Look for rips and holes, check if it is loose, and if so, it may need to be changed.

If you need a mouthguard for the night to protect your mouth and you are unclear if what type of mouthguard to get, Cascade Dental can help you. We will show you how to wear and take care of your mouthguard. To learn more about mouthguards contact us here at 541-779-6401 to obtain more information or book an appointment at our office.