Teeth Whitening

Medford, OR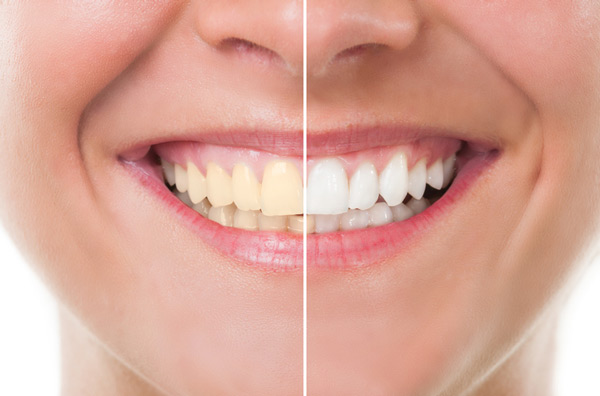 Whitening is the cosmetic procedure of brightening your teeth and giving them a whiter appearance. Brushing and flossing are the most common methods that people use to maintain their teeth bright, sparkling, white, and healthy. Maintaining good dental hygiene is essential in keeping that confident appearance. The whitening procedure is quick and straightforward when the whitening treatments include bleaches like sodium peroxide or carbamide peroxide. Stains are broken down into tiny bits, causing the color to become less intense and the teeth to whiten. Our dental team at Cascade Dental along with Dr. Rice provides the greatest methods for making your teeth seem more attractive, brilliant, and whiter.


What Discolors Teeth?

Some meals and beverages, such as coffee, red wine, and tea, contain powerful color pigment chromogens sticking to the outer white region of the tooth, which may cause teeth to transform color from whiter to duller. Tobacco usage stains the teeth because it contains black tar and nicotine, which when combined with oxygen becomes yellow and creates stains on the teeth. Another reason your teeth may darken with age is that enamel thins and exposes dentin, a dark layer underneath it. Any trauma to the teeth can cause teeth to darken - changing color after responding to an injury, exposing the dentine. Additionally, several drugs, such as antihistamines, blood pressure meds, and antipsychotics, may cause teeth to darken.


Whitening Options

Before initiating the process, consult with the dentist. There is a toothpaste that removes stains, utilizes mild abrasives to scrape the teeth, and includes added polishing chemicals to make your teeth shine. The color of this toothpaste does not alter, but it does erase spots on the enamel. Chairside bleaching, also known as in-office bleaching, is a one-time visit to the dentist during which we administer protective gel to the gums and then bleach the teeth. The process is safe for the dentist to ensure that protective measures are taken and that no chemicals will hurt your mouth or keep you at risk. Dentists provide directions on how to apply a bleaching solution to the tray and for how long. The treatment is carried out carefully and may take many weeks to finish. Before using any bleaches, consult with the dentist about the appropriate bleaching agents for your teeth.


Who Needs Whitening?

Whitening of teeth does not work on all teeth and this is because some teeth discolor after using medication or having tooth injury. The whitening process requires that you talk to the dentist about it. If you have yellow teeth then they might bleach much better, gray teeth will probably not work well. The dentist will guide you on what to do and make sure that you talk to the dentist before even using the whitening process.

For whiter and brighter teeth then you need to visit us at Cascade Dental and we will give you white teeth so that you have an attractive and appealing look. You can even call us at 541-779-6401 so that you gain more information on how to whiten and remove stubborn stains on the teeth.